Sabato 31 Marzo alle 15 a Firenze, i biancocelesti affronteranno la squadra sorpresa del campionato, quei Guelfi Firenze che sono imbattuti al vertice della classifica e la cui difesa ha concesso solo briciole agli avversari.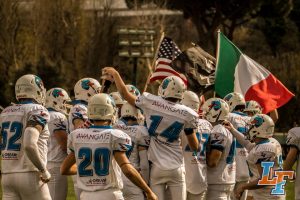 I nostri vengono da alcune prove incoraggianti, infatti dopo la bella vittoria in rimonta con i Giaguari, l'attacco titolare ha fatto molto bene con i fortissimi studenti-atleti della Western New England University: in soli due drive in cui sono stati in campo, Fortune e compagni hanno mosso la palla fino alla end zone avversaria, la prima volta fermati da un intercetto e la seconda a segno con Biancalana.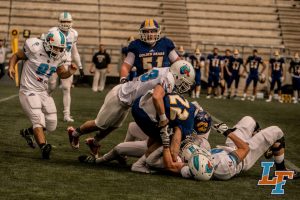 La trasferta presenta la difficoltà per la difesa di gestire una coppia di ricevitori come Vannucci, l'oriundo gigliato che già l'anno scorso aveva fatto vedere cose interessanti, ed Almeyda, eccellente giocatore proveniente dagli Steelers di Terni, il tutto complicato dalla elusività del qb avversario Dawson, che ha dominato la gara della settimana scorsa con i Lions. In attacco, i laziali dovranno tenere d'occhio il difensore Holshoe, vera macchina da placcaggi che viaggia ad una media di 15 a partita.
Tuttavia i ragazzi di coach Iaccarino hanno dimostrato di avere i mezzi per affrontare chiunque, trascinati dalle prestazioni stellari di una linea d'attacco che gioca con grande attenzione e tenacia. Mike Gentili, al suo secondo riconoscimento come Player of the Week del Campionato di Prima Divisione, sarà l'asse portante del gioco offensivo, supportato da un cast in grande crescita, mentre in difesa il duo Insom-Scaperrotta, una delle migliori combinazioni di rusher e cover corner in Italia, avrà di che districarsi contro i viola.
Sarà sicuramente una bella gara che verrà trasmessa in diretta, come sempre, sul nostro canale YouTube al link https://www.youtube.com/watch?v=tvNLAVwMPRc&feature=youtu.be , perciò non prendete impegni sabato pomeriggio per supportare i giovani laziali in questo scontro al vertice.